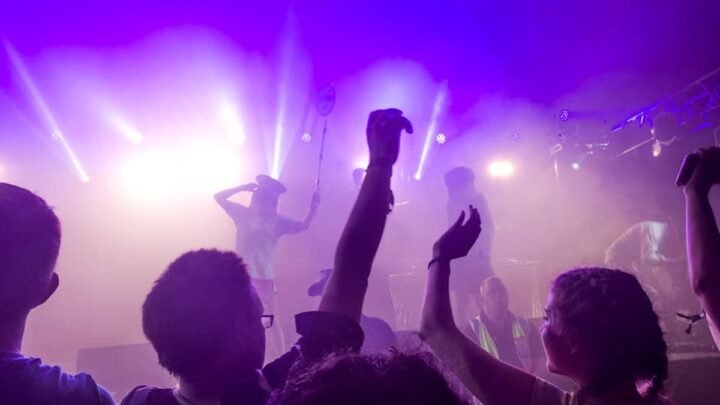 Ready to discover the best festivals in London 2022? Don your glitter and your fanciest wellies, these are the hottest events on this year's line-up.
London music festivals are some of the best in the world. As Londoners, we're privileged to be able to enjoy all the multi-day joy of a great festival right on our doorsteps. No tents, minimal mud, and dream headliners, that's London festivals.
And they're back for 2022! From grime to house to the poppiest pop, London's summer festival calendar has something to offer everyone.
So, here's our guide to the best London festivals this year…
Best London Festivals
Gala Festival
Peckham Rye
June 2nd – 4th
This South London summer festival is just what the doctor ordered if you want to forget about the past couple of years and dance.
Music at Gala will mostly be house and disco, with a smattering of other party tunes to keep things interesting. Announced acts include A Guy Called Gerald, Courtesy, and Bradley Zero, amongst a fair few others.
Last year also saw the festival accompanied by food and drink from local Peckham bars and eateries, and hopefully this year the sun will be shining on the Rye all weekend!
Jubilation! Festival
Brockwell Park
2nd June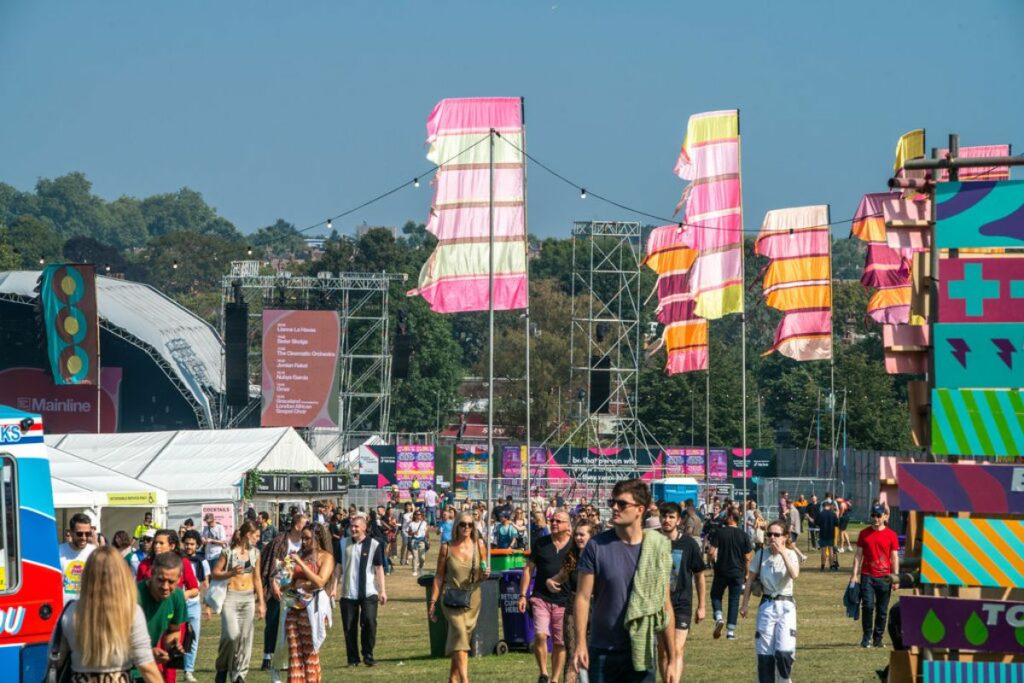 It wouldn't be a festival guide without a Platinum Jubilee entry, now would it? Jubilation! is an exclusive festival taking place over the Jubilee weekend – and the line up is excellent.
Madness, Supergrass, and the London African Gospel Choir's Bob Marley Soundbook will all be taking to the stage in order to celebrate the event, with plenty of street food and family-friendly activities on hand to keep everybody entertained.
Mighty Hoopla
Brockwell Park
June 3rd + 4th
Tickets from £59.50
If you love pop, you'll love Mighty Hoopla. This is London's biggest pop festival, beloved by the LGBTQ+ community in particular, and 2022's event is set to be one of the most fabulous yet.
The lineup includes none other than Steps, Anastacia, and Cascada, amongst many others (both pop stars and drag queens).
The all-day event is another Brockwell Park festival. Mighty Hoopla will be taking over the hilly park on June 3rd and 4th, so you can get some great views of London while dancing to nostalgic pop.
Junction 2, Inner-City
Fabric, Tobacco Dock
June 3rd + 4th
Londoners are going to have some tough decisions to make this year, as it looks like a lot of the festivals are taking place over the same weekends.
It should be an easy enough decision if you're a techno lover, though. You'll be choosing Junction 2 Inner City at Fabric.
This year, the likes of ANZ, Aurora Halal, and Adam Beyer will be playing their tunes, so expect a night out like no other. Partially because it goes on all weekend, from midday onwards.
Cross The Tracks
Brockwell Park
June 5th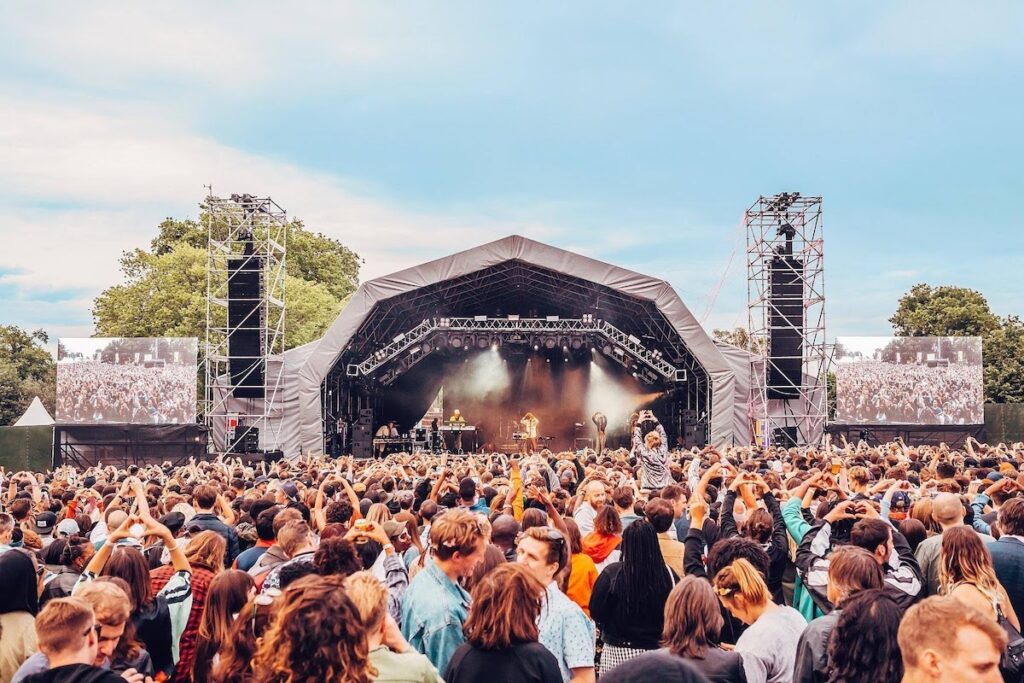 A brilliant Brockwell Park festival, Cross the Tracks offers funk jazz, soul, and great food in Brixton's best green space. This year the festival returns earlier than last year's September offering – so grab tickets while you can and prepare to feel completely rejuvenated.
Khruangbin, Joy Crookes, and Patrice Rushen are all on the bill, along with around 40 street food stalls, a creative market, and a whole slew of craft beer breweries from the capital and beyond.
Assuming the sun shines, this is going to be one of the most relaxing days out possible in South London this Summer.
Hampton Court Palace Festival
June 8th – 17th
A London music festival at a 16th-century palace? Don't mind if we do.
Lionel Richie, Elbow, and Crowded House are all playing this year, which should give you an idea of the relaxed pace of this palace park event.
Think gazebos, picnics and champagne cocktails and you'll have the vibe of Hampton Court Palace Festival 2022 pretty much pinned down.
Grace Jones' Meltdown Festival
Southbank Centre
10th – 19th June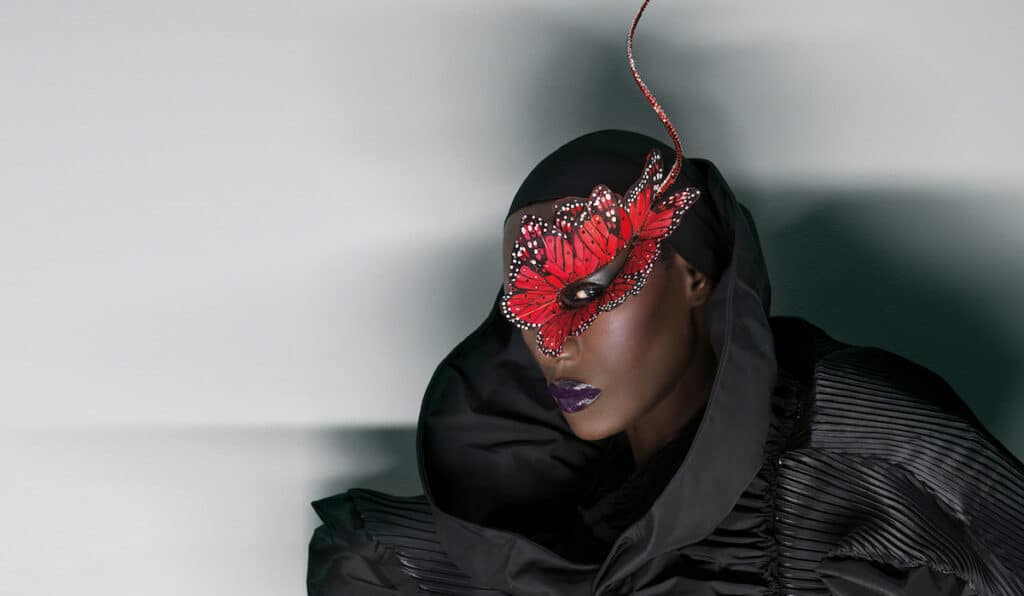 One of the festivals we're most excited for this year is Grace Jones' Meltdown. The annual festival sees a fresh curator each year, with previous collaborators including everyone from David Bowie and M.I.A.
The line up this year is equally as impressive, with Greentea Peng, Angelique Kidjo, and Grace Jones herself taking to the stage.
Windrush Festival
Crystal Palace Park
June 26th + 27th
Windrush is a festival of real vibes, celebrating the music, art and culture of the Caribbean as it exists in London.
Over two days, visitors to the festival will be able to explore what various black communities from London and the wider UK have to offer as they showcase what makes them unique through musical performance, murals, and food.
This is a grassroots festival built around empowerment, and it's one you shouldn't miss. It's a particularly excellent choice for a family day out, too, so don't let the kids hold you back from heading to Windrush this year.
British Summer Time
Hyde Park
Dates throughout July
A star-studded lineup awaits you at British Summer Time Festival taking place throughout July in 2022. Situated in leafy Hyde Park, there's no better way to let loose in Central London.
The entire range of full-feature concerts are yet to be announced but the likes of Pearl Jam, The Pixies, and Elton John are some of the big names already on the bill. Tickets are selling out fast, so make sure you keep checking back to see what else has been released.
Wireless
1st – 10th July
This London music festival is a showcase of the best in hip-hop and grime, in the ground surroundings of Crystal Palace Park.
Last year saw the likes of Skepta, Future, and Migos headline Wireless, with a huge list of additional artists playing across the three-day festival. Who knows what the 2022 lineup will hold – it's guaranteed to be pretty incredible.
Snap up your tickets quickly as soon as they are released, as although this is a late summer London festival offering it tends to sell out fast.
Kew the Music
Kew Gardens
5th – 10th July
Nestled in the leafy grounds of Kew Gardens, this Richmond festival might just be the prettiest on the calendar.
The line up contains plenty of equally impressive acts: James Blunt, Will Young, Van Morrison, and Bananarama, among plenty of other household names. Bring a picnic – or grab something inside at the festival, and settle in for an afternoon of chilled-out vibes.
Kaleidoscope
Alexandra Palace
July 23rd
Tickets yet to be released
Kaleidoscope is a multi-arts one day festival at London's Alexandra Palace this summer.
This year's lineup is yet to be revealed, though last year's included Groove Armada, The Coral, Norman Jay MBE, Matt Jam Lamont, Irvine Welsh, Phil Wang, Sophie Duker, and some Hip Hop Karaoke thrown in for good measure.
The eagle-eyed amongst you will have noticed those aren't all musical acts. That's because 'multi-arts' means that this Summer festival includes comedy, literature, and more.
Plus, as it's at Alexandra Palace it'll all be experienced with a side of amazing London views.
Higher Ground with Patti Smith
Alexandra Palace
July 24th
Ally Pally is a venue that never disappoints – and that's certainly the case with the brand new Higher Ground festival. Fronted by Patti Smith, this boutique offering boasts a wide scope, from house DJs to jazz singers.
Alongside Patti Smith, other big name performers include Nadine Shah, DJ Rosie Lowe, and Spellling. This looks set to be one of the hottest new festivals in 2022 – keep it on your radar.
Body Movements
Multiple Venues
July 30th
Celebrating Queer dance music, Body Movements is a multi-venue London day festival taking place across the capital this Summer.
Venues range from the Colour Factory and Crate by the canal to Studio 94, where the likes of Angel D.Lite, A.G, Aurora Halal, and Cakes Da Killa will be setting the capital alight.
There'll also be plenty of afterparties for you to get involved with, if partying until late into the evening sounds like a bit of you.
South Facing Festival
29th July – 14th August
This London music festival was brand-spanking new for 2021, and ran throughout most of the weekends in August. It looks likely that it'll be the same format for 2022.
South Facing will be particularly up your street if you're of an age to clearly remember the early 2000s (aka still totally very young), as last year's headliners included The Streets, Dizzee Rascal, Sleaford Mods, and Supergrass.
We're thinking that the festival will once again be held at Crystal Palace Bowl, so you can explore the gorgeous Crystal Palace Park (including the dinosaurs, which should never be passed up) and the wonders of South London while you're waiting for doors.
51st State
Trent Park
August 6th
Okay, we hear you. Where on Earth is Trent Park?
It's actually in Cockfosters, and the fact that Cockfosters is practically Hertfordshire means there's plenty of room at this one day London festival for dancing (yes, it's London, it's even on the tube!).
You'll need the room too, given that 51st State is a 100% dance festival. Last year's lineup included The Brand New Heavies, Jocelyn Brown, Alison Limerick, Hannah Wants, Dimitri From Paris, Jazzie B OBE, and more.
We Are FSTVL
Damyns Hall Aerodrome, Essex
August 6th + 7th
Tickets £262
We Are FSTVL is one of London's biggest summer electronic music festivals – though it's moving to Essex for 2022. Trust us when we say that it's well worth the venture outside of the capital.
The lineup is yet to be revealed this year, though last year's included Alan Fitzpatrick, Secondcity, Jamie Jones, and Melvo Baptiste amongst many, many other big names.
All Points East
Victoria Park
August 19 – 28th
Tickets from £68.55
This East London music festival has been running for just five years but is already a much-anticipated event. And you'll be glad to know that the event is returning to Victoria Park in August of 2022.
Run by the people behind Coachella, All Points East is a reliably great time. And Victoria Park is a festival hotspot in itself for Londoners who have been partying there for several long weekends every summer for years.
So, we'll all be relieved to be back this August to catch Gorillaz, Tame Impala, The Chemical Brothers, Kraftwerk, and Disclosure.
The rest of the lineup is equally as brilliant, from the likes of Remi Wolf to Japanese Breakfast making an appearance.
Field Day
Victoria Park
August 20th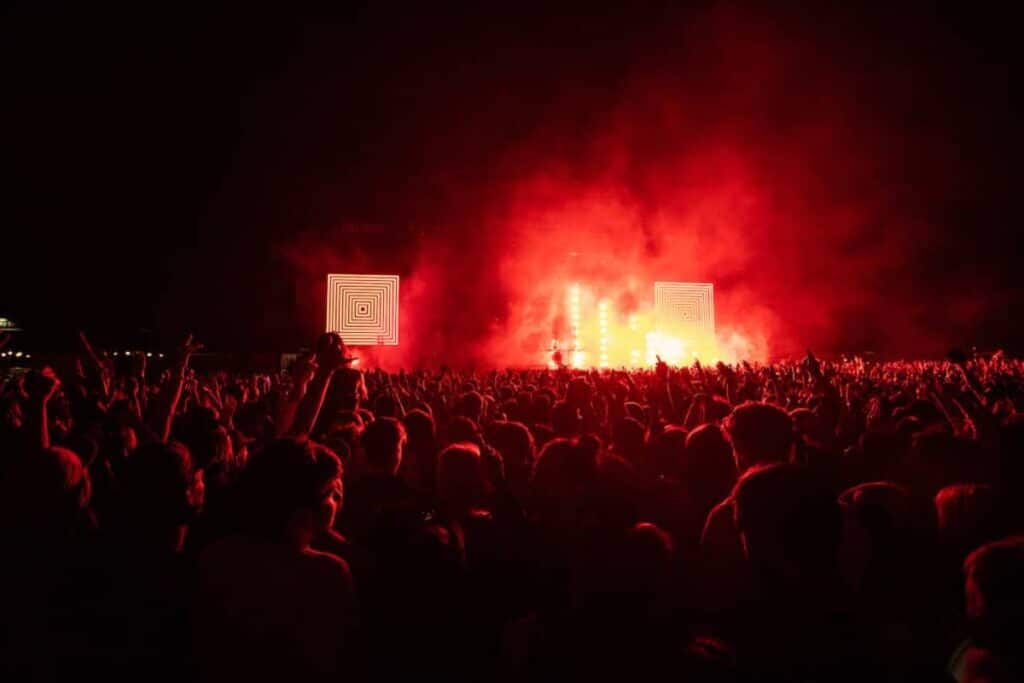 Field Day is, and we cannot stress this enough, an iconic London festival.
It all started in 2007, when Foals and The Mystery Jets headlined and everyone's trousers were still way too tight.
Thankfully, the trousers are looser nowadays… and this year, the festival is celebrating its 15 year anniversary. And what better way to celebrate than with The Chemical Brothers and Kraftwerk headlining Victoria Park?
If that wasn't enough, the likes of Daniel Avery and Cici will be joining them. It looks like August 2022 is going to be one to remember.
YAM Carnival
Clapham Common
August 27th
This London summer festival is set to celebrate black food, culture and music.
Acts including Davido, Femi Kuti (yes, son of Fela), Kehlani, and Honey Dijon have previously played over the three stages that take over the immense Clapham Common,
You'll also be able to enjoy food from around the world with a focus on African influences, and see art from a whole bunch of creators. Masquerade, or 'masked plays' which are common throughout Africa in a variety of forms, will also form a part of this newer London festival.
Pub in the Park
Chiswick House and Gardens
September 2nd – 4th
TV Chef Tom Kerridge's festival, Pub in the Park, returns to Chiswick in 2022 and after 2021's edition was a roaring success, this year looks set to be just as brilliant.
After all, what pairs better with great food than the poppiest of tunes?
Craig David and Sophie Ellis-Bextor are the only acts announced so far, so keep your eyes peeled for the rest of the lineup.
Beautiful People
3rd September
Details are under wraps right now but expect legends of house, soul, R&B and disco at this London one day festival in the far south of the city.
Billing itself as 'the world's friendliest party' means Beautiful People Festival has big shoes to fill, but with headliners like Arrested Development, Black Motion, and Inner City it looks like they might just achieve something magical.
Until recently, this festival was known as Southport Weekender. The name was presumably changed to Beautiful People because it's neither in Southport, nor a weekend-long event.
So, good move, Beautiful People!
Soultown Festival
Croydon Road Rec Ground, Beckenham
3rd + 4th September
Bringing some smoooothness to the fringes of the capital, Soultown Festival is one of our most highly-anticipated festivals this year. And with Soul II Soul, Heather Small, and Gabrielle all on the line up, is it any wonder why?
Croydon Road Rec Ground will be transformed into a festival hub, so get ready for a weekend of buttery-smooth sounds.
Lovebox
Gunnersbury Park
Dates TBD
If you're a London festival-goer, you've been to Lovebox.
Originally a club night that ran through the early 2000s, this festival has been held everywhere from Victoria Park to Clapham Common. Most recently, it was at Gunnersbury Park, and last year's offering saw the likes of Chance the Rapper and Solange take to the stage.
Like the organisers for plenty of other London music festivals, Lovebox are remaining tight-lipped about 2022.
You can sign up to a mailing list on the Lovebox website if you want to keep up to date, but it seems likely they're waiting to make sure the 2022 event will be able to go ahead without any rescheduling or other mishaps before they let the cat out of the bag.
---
There we have it – the best London festivals 2022. Which ones will you be attending?
Map of London's Music Festivals
Looking for More Things to do in London this Summer?