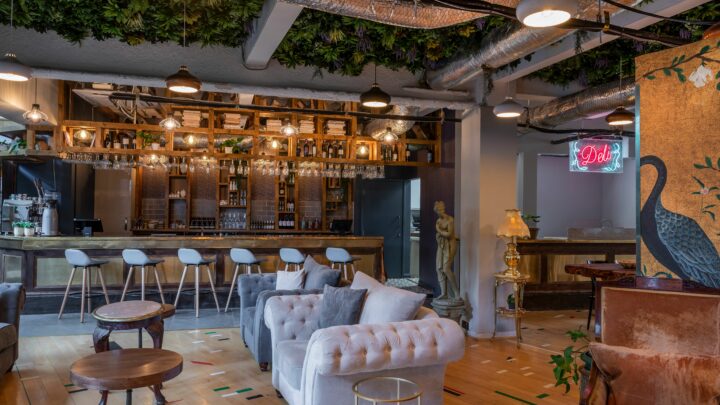 When it comes to private members' clubs in London, the city isn't shy. From sleek townhouses aimed at business professionals to bohemian supper clubs and nature-focused tranquillity spots, there's a bevvy of private members' clubs to choose from.
But how do you even begin to choose? And can you even get in? Some clubs are more exclusive than others, with higher membership fees and waiting lists that go on forever.
Whether you love sleek after-dark hangouts or a cosy home away from home, this guide will help you discover the best private members clubs London boasts.
The Best Private Members' Clubs in London
Soho House: Best Private Members' Clubs for Creatives
Soho House is equal parts chic and hipster, and one of the best London private members' clubs for creatives. There are 32 sister clubs scattered across the globe, with eight of the clubs in the city of London.
They stand as the ultimate gathering places for creatives, and owning an Every House membership grants you access to any one of them. They have gyms and spas and a roster of events such as cabarets, educational talks, and even board game evenings.
As of October 2021, the waiting list was a cool 66,800 – so you might be waiting a while. For the under-27s, annual costs are £1,150 with a joining fee of £300. If you're over 27, the prices rise to £2,500 pa and a £500 joining fee.
Allbright: Best Female Private Members' Club in London
The first of its kind, this London private members' club welcomes brilliant, like-minded women into its arms.
Allbright provides a space for fierce females to grow in every way by offering events and workshops designed to boost self-esteem and workplace prominence. Its decor reflects its modern attitudes with chic colour palettes and distinctly modern furnishings.
The Mayfair branch has five floors housing an in-house art collection, hair salon, two rooftop terraces, and private dining rooms, to mention a few. Membership is from £1,100 pa to £2,100 pa, and the joining fee is £300.
Pavilion
This elite club is as gorgeous on the outside as it is inside. You definitely wouldn't use a word like 'modest' to describe the opulent Russell Sage-designed interiors of Pavilion.
With six floors of extravagance, the third-floor terrace offers gorgeous views over Hyde Park, and the Michelin-quality food by Tom Kerridge is divine. The underground vaults converted into a library are a perfectly cosy spot to work. There are weekly events, from parties to wellness talks and book launches.
There are two other sister clubs across London, and one membership of £185 per month for a minimum of 12 months, plus a £250 joining fee, will grant you access to all three.
Home House
With an exciting roster of events, from DJ nights to candle painting and drag bingo, Home House isn't only a place of old-world luxury.
The 18th-century Georgian townhouse is all about elegance with a modern twist. It offers facilities such as a boutique spa and gym, opulent bedrooms, and fabulous dining. They desire to build individuality and inspire communities while providing you with a place to connect, relax, and just 'be yourself.'
Membership costs range from £1,450 pa to £2,250 pa. The joining fee is £399.
Tramp
Open since 1969, the likes of Jackie Collins, Princess Margaret, Mick Jagger, and Michael Cane have graced its decadent floors. Unlike some other private members' clubs in London, Tramp is more relaxed on dress code, although 'style and flair' is a prerequisite.
It boasts a discotheque with 16th-century panelled walls and crystal chandeliers. The Zodiac Room houses the main restaurant where you can dine on a world-class menu. The moody art-deco terrace is a charming place to enjoy cocktails and Cuban cigars.
Membership is £1,000 pa, but you'll need an Instagram following of 100,000 plus.
Oswald's
One of the most exclusive private members' clubs in London, Oswald's has seen the celebrity likes of George Clooney, David Beckham, and Dame Joan Collins.
It's considered Robin Birley's favourite choice for wine connoisseurs, where guests can cellar their own bottles. The lack of social media and its modest website only increases the intrigue and exclusivity of this palace of privacy.
It's no wonder celebs love to frequent this haven. Comfort is key in this stately home, and the food is without parallel. Membership is £2,500 pa.
Blacks Club
Blacks Club aims to be the antithesis of the private members' clubs in London. Instead of high-minded sophistication, it prefers to advertise itself as a decadent, bohemian drinking den and supper club.
The dark, moody decor lends to the ambience—the perfect setting for a candlelit dinner with friends. The menu is seasonal, and the focus is on honest food well-executed. They hold music events, poetry readings, members meet-and-greets, and more at this luxurious venue.
There's a £250 joining fee and a subsequent membership fee of £525 pa unless you're under 30, in which case you'll pay £300 pa.
Annabel's
Looking for uber cool London member;s clubs? This iconic Georgian townhouse on Berkeley Square is the epitome of maximalism, with plush designs and colours combining into a pleasurable chaos of aesthetic design.
Golden swan taps and unicorn chandeliers aren't uncommon in this establishment, where supermodels and royalty have graced the luxurious halls. With restaurants, private dining rooms, bars, a cigar salon, and a garden terrace spread over four floors, you'll have your choice of where to spend your time at Annabel's.
This luxury comes at a price, though. Membership costs £3,250 per year, plus a £1,628 joining fee and a letter of recommendation from someone already in the club. The waiting list can also be very long (14,000 in 2018), revealing one of the best private members' clubs within London.
The Ministry
A club for music lovers, The Ministry is sound-scaped across two storeys so you can experience different music throughout the day—and no, it's not all club music.
The workspace is a mix of shabby chic and modern, pet-friendly, and ready to offer you a delightful collection of cocktails. There's even a cinema to help you unwind and access to sound studios, a gym, and cultural events. Membership is £70 per month with a once-off fee of £150.
The Ned
What was once a Midland bank was transformed into a highly sophisticated club that opened its membership to the corporate elite in 2017.
Their plush 1920s inspired rooms are the crux of comfort, and there's a late-night bar in the original vault leading to the basement lounge at The Ned. Millie's Lounge on the ground floor is open to visitors, but the Cowshed spa and rooftop restaurants are strictly members only.
Membership starts from £1,500 per year with a £250 joining fee for under-30s, while over-30s will have to pay £3,000 pa and a £1,000 joining fee. In 2017, it had a 6,000 strong waiting list.
12 Hay Hill
This ​​private members' club in London is perfect for business-minded people. Leaders and entrepreneurs alike will enjoy 12 Hay Hill's six storeys of sophisticated leisure space and top-ranking facilities to work in.
You'll be mixing with industry leaders, influencers, and innovators, so it's the perfect spot to network. The restaurant offers beautifully designed dishes made with fresh ingredients, and the bar will accommodate you with bespoke cocktails and a curated selection of wines.
Membership costs upward of £1,600 pa, plus a joining fee of £750.
The Curtain Club
Welcoming members who are diverse and driven forward-thinkers, The Curtain Club has a range of restaurants and coworking spaces available.
They manage to combine eccentric design with functional spaces, and the richness of its decor is testimony to that. It offers a varied calendar of events, from supper clubs and live acts to networking meets and wellness workshops.
Laurel's on the Roof is a firm favourite, as is the rooftop pool and 24-hour gym. It costs £1,000 pa to be a member, with the option of a monthly rate of £100. The joining fee is £350.
Arboretum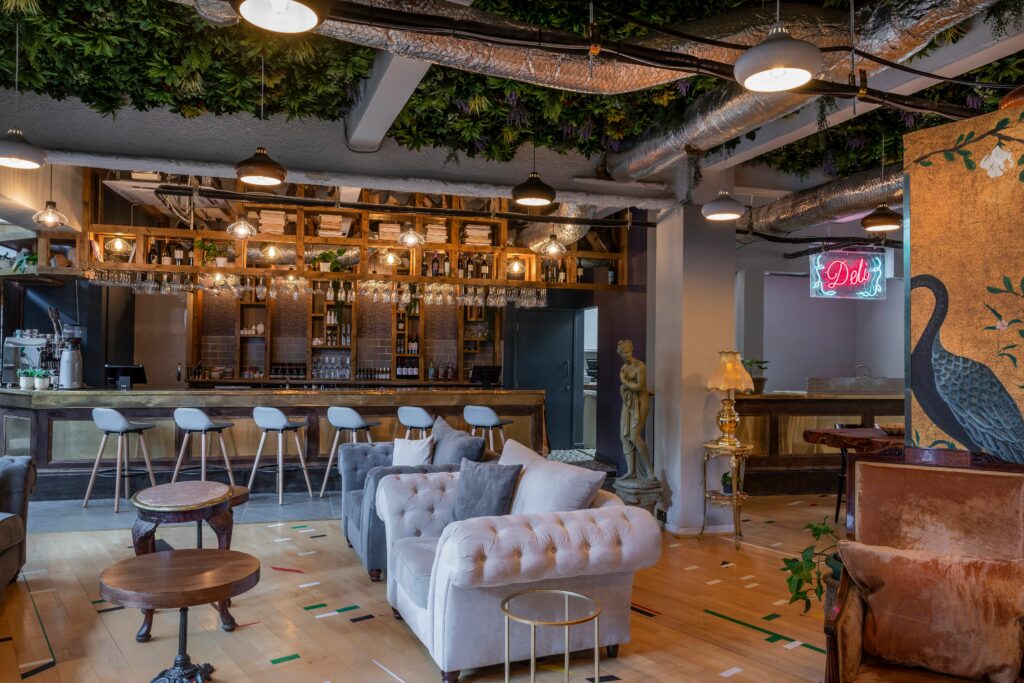 A respite for those seeking a tranquil setting amid urban bustle, The Arboretum is a haven for plant lovers and peace-seekers.
Living gardens line the walls and ceilings, and meditation pods are available once you've enjoyed a meal from the plant-powered deli. There's a boutique gym on-site for wellness, and it hosts events throughout the year.
It's the perfect place to work when you feel like getting away from the city. Membership costs between £295 pa and £400 pa.
The Court
Perhaps after a day of experiencing the best things to do in Soho, unwind at one of the borough's coolest hangouts: The Court.
The moody Gatsby-esque decor by Bradley Thomas is sublime. Just thinking of the legends that have performed there (including Jimi Hendrix, The Stones, and The Beatles) is enough to make you want to join. The club seeks out eclectic and exciting members to join its ranks and guarantees them a personable experience.
At a membership fee of £600 pa and a joining fee of £250, it's one of London's more affordable private members' clubs.
South Kensington Club
If you're looking for a private members' club in London with a twist, South Kensington Club is for you. It is thematically centred on the spirit of adventure, with Colonial decor and items from cultures around the world.
It focuses on wellness, with a saltwater watsu pool, Russian banyas, and a Turkish hammam all available to you. It's the perfect place to mingle with fellow travellers and plan your next destination itinerary.
Under-30s will pay £2,750 pa with a joining fee of £500 for the pleasure of being a member, but over-30s will pay £3,500 pa and £1,000 to join.
The Conduit
This is a pretty exclusive private members' club in London because The Conduit requires more than the usual prerequisites for joining. It also asks for a proven record that you're doing your bit to effect positive change in the world.
Its members are an eclectic mix of entrepreneurs, creatives, activists, business leaders, and policymakers with a similar goal of sustained positive impact. They host over 150 events a year, focusing on community networking and leadership development.
There's also an extensive library, gorgeous rooftop terrace, and Ubuntu Lounge touting coffee and cocktails. Their annual fee is from £1,200 to £1,800, and the joining fee is £500 to £700 depending on age.
The Arts Club
Of the various private members' clubs in London, Mayfair offers The Arts Club, a place focused on cultural pursuits and the great minds behind them.
Members drink, chat, and dance away the evenings to live music on Friday and Saturday nights, and gorgeous art installations line the walls and rooms. If you'd like to be a member, they require a vested interest and some experience in film, art, photography, fashion, theatre, or music.
Its brasserie takes inspiration from Mediterranean dishes, and their events roster is full of cultural experiences for the taking. Memberships are from £1,250 pa to £2,500 pa, and the joining fee is £1,000 to £2,000.
Home Grown
When looking for business-related private member clubs, London has more than one up its sleeves. Housed in a five-storey Georgian townhouse, Home Grown takes pride in being a leading business club that helps you unlock your business potential.
It offers business-themed events in a luxury setting designed for networking. If you need a place to stay overnight, there are 35 boutique rooms to choose from. They also have a sideline focus on wellness, with yoga brunches and meditation rooms available for members.
It'll cost you £2,000 pa to be a member and £399 to join this prestigious club.
Practical Tips for Joining One of London's Private Members' Clubs
Some private clubs require a nomination by an existing member, and the standing of that member and how long they've belonged to the club often plays a role.
Choose your club carefully. Decide on what you want to get out of being a member, whether that's networking, socialising, or live events and a place to work. These co-working spaces can be a great alternative.
Some prerequisites for members may require a certain social standing or amount of money. Being asked for bank statements and headshots in your application isn't uncommon.
Discover More London Guides